THE FIRST HIGHLIGHT SUSTAINABLE CLOUD SPEAKER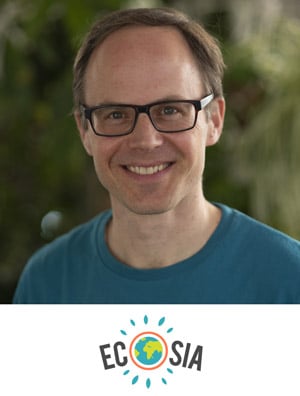 The Regenerative Cloud
Dr. Wolfgang Oels, COO at Ecosia
By the time you read this, the Ecosia search engine will have planted more than 150 million trees at over 9,000 sites across the globe. Join Ecosia COO Wolfgang Oels to discover how our networked lives and the dynamics of globalization can be harnessed to address climate change as we look past yesterday's goal of 100% renewable energy. Oels will make the case from business and planetary perspectives for shifting our mindsets and strategies from "carbon neutral" to "climate positive"—huge rewards await, in more ways than one.
WEDNESDAY, MARCH 23TH | KEYNOTE TRACK | DOME
Sustainability is now not just one part of the triple bottom line of People, Prosperity and Planet—it affects all three.
The Cloud has grown tenfold in the last ten years—yet the industry has so far avoided scaling its energy consumption in the same direction. However, as the world digitizes even further, the continued growth of the Cloud could buck this trend. Now is the moment when the Cloud's growth is bottlenecking over its energy usage.
In greening your Cloud operations, you uncover opportunities for increased profitability, and the smart players are not delaying here. The global green technology and sustainability market size-shifting to a higher gear. Here is a sense of just how quickly this market is expanding: Fortune Business Insight, in its report titled "Green Technology and Sustainability Market, 2021-2028", notes that the market stood at US$9.57 billion in 2020. It is expected to reach US$41.62 billion by 2028 while exhibiting an explosive CAGR of 20.3% between 2021 and 2028.
The Cloud isn't just reinventing how it consumes energy, but how it builds up from bare metal. The Global Green Data Center Market size is expected to reach US$142.8 billion by 2026, growing at 19.7% CAGR during the forecast period of 2020-2026.
»There are no passengers on spaceship earth. We are all crew.«
Marshall McLuhan
High demand for data storage management, growing energy cost, and massive electricity consumption are some of the catalysts for market growth, and the optics of resource-wise consumption as well as shifting values of emerging generations of corporate decision-makers could also make their presence felt.
Conversely, some of the obstacles to the market growth include low awareness of the benefits of a green data center, relatively high initial cost, and inflexibility with currently operating data centers.
At CloudFest, we'll examine both the technological and operational innovations that are helping us to overcome the bottlenecks that could otherwise slow the continuing advancement of the Cloud. Join the CloudFest community of business leaders to shape a greener future, exploring how to embrace more sustainable ways of operating that won't hurt, and might even help your cost structure.