Prices
(VAT not included)
Open from March 16-19, 2020
Standard Room (1/2 guests)
165€ - 229€
---
Description
The new 4* superior themed hotel 'Krønasår' is modelled after a natural history museum and is a special place for knowledge-hungry explorers and adventurers to stay. As soon as they enter, guests are welcomed by a mystical and imposing skeleton of a gigantic sea snake. An overnight stay in a mysterious place, a place full of historical discoveries from a time whose stories have long been forgotten is now becoming a reality and can be experienced.
Rooms
Each room is uniquely styled and there are multiple themes throughout the hotel. Each room is different and photos are one representation. Your room may be different.
Standard Room (1/2 guests)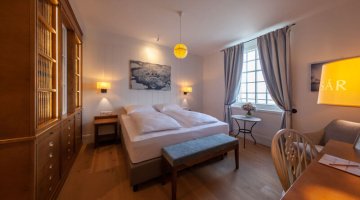 Standard Room (1/2 guests)
The hotel Krønasår is a special kind of natural history museum, offering its guests of all ages a stylish accommodation in a Nordic ambience. All rooms are fitted with a desk, air-conditioner, safe, a private bathroom, hair dryer, flat screen, telephone, free high-speed internet access (Wi-Fi). All rooms are non-smoking. These rooms are approximately from 29 m².
Price: 165€ - 229€
Location
Äußerer Ring 1, 77977 Rust