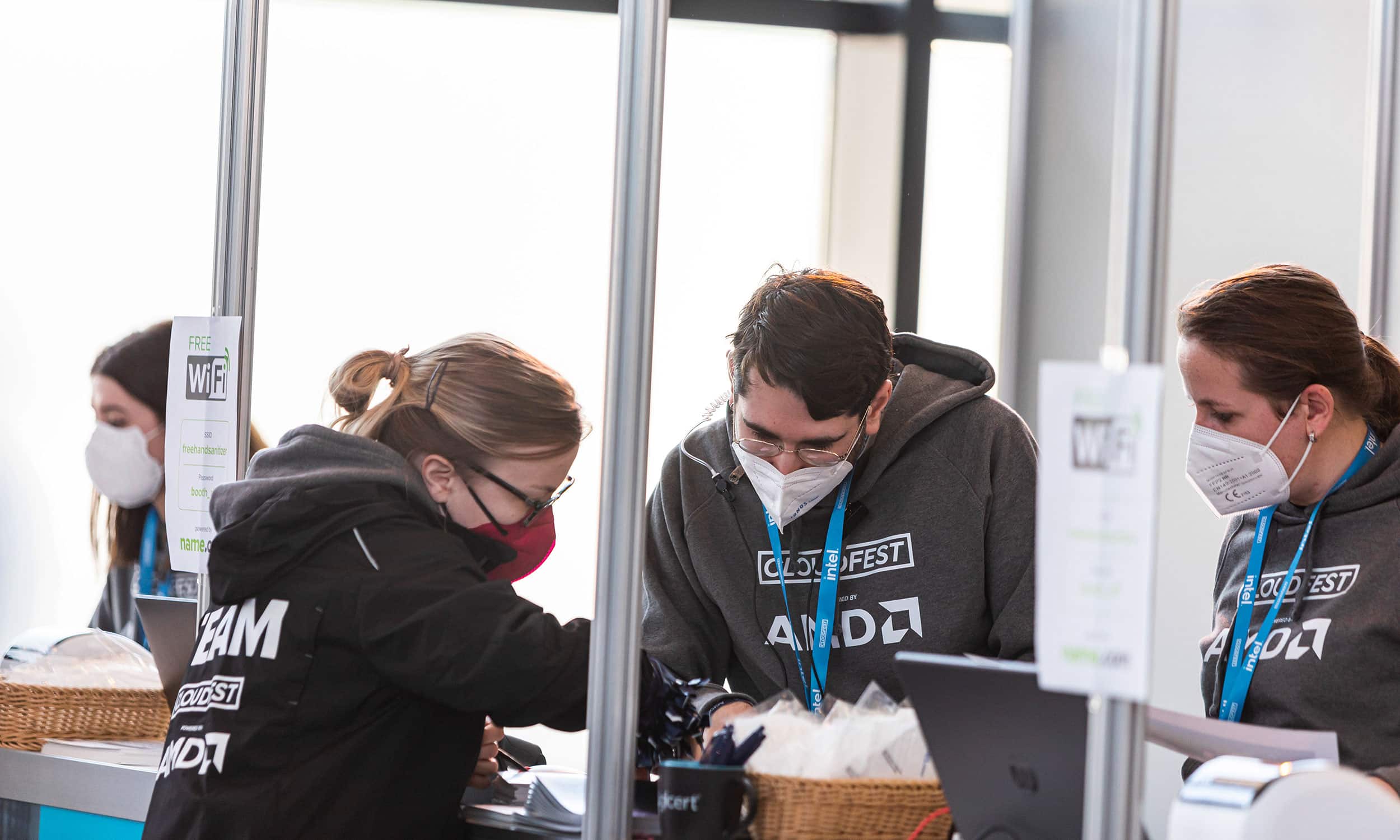 FAQ REGISTRATION
Frequently Asked Questions about CloudFest Registration.
This page holds the answers to most questions you might have about your ticket to CloudFest: how you get it, what it does, and more.
The Standard Pass is like general admission to a concert or football game. This gets you to the main event spaces, including amusement park rides; main and breakout sessions; and all the big parties, concerts, and networking events.
The VIP Pass is like box seats at the big game. Besides all the benefits of the Standard Pass, you're also invited to VIP-only networking events, dinners, and sessions, as well as the VIP Lounge during each day of CloudFest. You'll also have access to our fleet of shuttle cars to quickly get you to where you need to go, as well as concierge services at your hotel.
It's pretty streamlined:
Choose the pass you want.
Choose which hotel you want to stay at (optional).
Enter your data for registration and networking purposes: please use company mail and your LinkedIn profile (if you have one).
Check out and wait for your confirmation email. (Be sure to check your Junk folder: we won't take it personally.)
That's it!
The CloudFest community is a tightly-knit B2B crowd, and the sessions and networking topics are not for a lay audience. If those outside the industry showed up, networking would be less helpful for you in reaching your business goals. When registering, be sure to use your company email address and include your LinkedIn or XING profile (if you use LinkedIn or XING).
We check each new registration to be sure that you're professionally active in the Cloud and its adjacent industries. Normally this takes us less than 48 hours.
After checking your registration, we could not confirm that you're affiliated with a company or initiative that works in the Cloud. You are welcome to reapply when your role changes, or if you applied with your personal email by mistake.
Since we check each new registration to make sure you're active in the Cloud industry, free and personal email services make this impossible to do with the number of registrations we receive.
Yes, of course! When you open the CloudFest Registration, you'll see an upgrade option. Either enter a VIP voucher code (if you have one), or upgrade your pass yourself using your credit card/PayPal. Either way, it only takes a moment.
You can find your invoices in your CloudFest account. To access your account, check the email you received just after submitting your registration.
You can add services like train tickets to and from Offenburg as well as hotel reservations and updates. You can also check invoices, and add profile and company info, which you'll need for all the networking that goes on at CloudFest.
Our free shuttle bus service takes you from Offenburg's main train station to Europa-Park in comfort and style. Your registration confirmation email also serves as your shuttle bus ticket, so be sure to keep it.
CloudFest attendees are decision-makers in the cloud computing space ("the Cloud"), as well as the industries directly adjacent, such as telecommunications, etc. None of the content is geared towards a lay audience.
Go to your CloudFest account page and click the "Forgot Password" button. But don't reset it to "password" or "12345" or anything like that, okay?
While hotel bookings are nonrefundable, you can book additional nights through your CloudFest account. (We recommend being here for the opening and closing parties, obviously! FOMO is a painful feeling.)
Yes, and we've streamlined the process. Visit your CloudFest account and enter your data in the appropriate section: the letter will be generated automatically.
The email address you use to register will be the reference point for all communications from CloudFest, including your pass and hotel. This cannot be changed once you create your registration account. Oh, and definitely use your work email.
Yes—but register quickly! We keep a strictly limited number of Standard Passes available for university or graduate students. While this is a B2B event, we also believe that those wishing to build a career in the Cloud would learn a lot at CloudFest! The program at CloudFest is geared towards a professional audience, so you would need some understanding of how cloud computing and internet infrastructure work—otherwise you will feel rather lost! When registering as a student, put your university in the Company field and your course of study in the Job Title field. Please note that you must be at least 18 years old to attend any CloudFest event.