THE FIRST HIGHLIGHT INTELLIGENT EDGE SPEAKER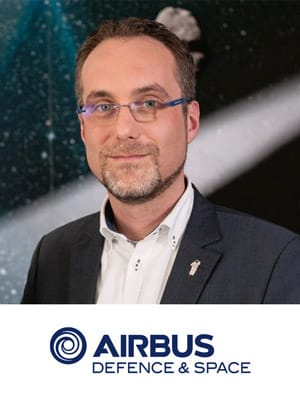 HOW TO CONNECT TO CLOUD SERVICES AT THE INTERNATIONAL SPACE STATION
Till Eisenberg, CIMON Project Manager at Airbus Defense
Edge devices can be found in many places. One of them is orbiting around the center of earth with a speed of 27,600km/h. Here, one day lasts 90 minutes.
The speaker will talk about CIMON, the Crew Interactive MObile companioN. CIMON is the first robotic and autonomous crew-mate on board the International Space Station with a link to cloud services on earth to support the ISS crew with artificial intelligence based assistance.
The key note will focus on the challenges of bringing something like CIMON into space and how such a frontend is connected to earth and why and for what reason CIMON has been created.
TUESDAY, MARCH 22TH | KEYNOTE TRACK | DOME
The Intelligent Edge is the logical culmination of a three-year arc at CloudFest, which started with Hyperscale Enablement and the Intelligent Cloud.
Maximizing data transfer speed will only get us so far, as faster-than-light travel remains in the realm of science fiction. The solution, then, is to bring computing closer to those demanding it: now everything can be everywhere. Welcome to the Edge.
The essence of Edge computing is simple: your database still lives in one place, but your assets are cached strategically around the globe. While once only static images were geographically distributed, now even your code and data are distributed with ease, moving to wherever they need to be in order to be quickly used by the consumer.
Computing therefore becomes a continuum, with impacts ranging from AI to sustainability in how and when data moves. Along with ramped-up rollouts of 5G, the expanding Edge presents a historic opportunity to reach more customers with higher-quality offerings than ever before.
According to the Worldwide Edge Spending Guide from International Data Corporation (IDC), the worldwide edge computing market will reach US$250.6 billion in 2024 with a compound annual growth rate (CAGR) of 12.5% over the 2019–2024 forecast period.
»All I want to get is a little bit closer All I want to know is Can you come a little closer?«
Tegan & Sara
From a technology perspective, services (including professional and provisioned services) will account for 46.2% of all Edge spending in 2024. Hardware follows as the second largest technology category with a 32.2% share of spending, while the remaining 21.6% will go to edge-related software. Professional services will see the fastest growth in Edge spending with a five-year CAGR of 15.4%.
This all tells us that no matter where in the Cloud industry you work, you'll soon be living on the Edge—and it makes good business sense to get there as early as you can with the right offerings for your customers and partners.
While explaining the Edge is fairly straightforward, implementing it in a stable and profitable way presents a complex set of interlocking challenges. Providers must explore the best ways to quickly connect, secure, and streamline Edge services to their hypervisor-based cloud hosting experience—and how to best monetize those efforts. Meanwhile, it is crucial to learn how this new paradigm changes local and international requirements in terms of jurisdictional authority, regulation, privacy, chain of data custody, and customer identifiability.
At CloudFest 2022, business leaders from around the world will chart the best path forward through insights and partnerships. We'll walk on the Edge together, exploring it through the lenses of technology, society, politics, and art.